Olive's rating: 5 stars out of 5
I absolutely loved this book. Parker Palmer did an excellent job of painting a picture of what safe communities of people look like and how they help individuals toward living an undivided life of integrity.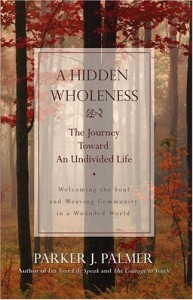 One significant idea I gleaned from this book was the Mennonite practice of a "clearness committee" where an individual at a crossroads in life invites trusted friends to sit with them in a time of discernment.  I had not heard of this before.  The notion of having others ask you questions and listen for your heart and motivation in order to reflect it back to you seemed wise.  It was different from an advice giving session, which is what we're more used to in our culture.  To have others be extra ears and eyes to help figure out what's really going on in one's heart was a concept that appealed to me.
I would recommend this book for anyone who leads or participates in any sort of group.