This post is part of our series "Facebook Q&A about Parenting" where we went to our friends and family on Facebook to get advice on parenting.
The Question: How do you get the boogers out of your baby's nose?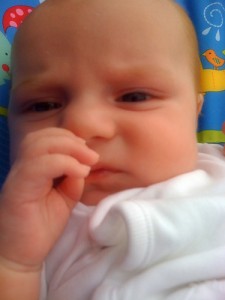 The Answers:
Shannon: Ooo we love the nasal aspirator. Rolling up Kleenex works too.
Wakana: Taking off a little bit of cotton of a q-tip and rolling it between your fingers to make a miniature q-tip works, too.
Matt: Our baby hates the nasal aspirator… so we just wait till he sneezes enough and we pick it out with our finger tip.
Elaina: I really like the Hydrasense nasal aspirator, but you have to put some saline drops in first to soften the boogers.
Stephen: We put a humidifier in our baby's room. There's basically two types: cool mist and warm mist. The cool mist sonicates the water creating a mist and blows it into the room. The advantage of this is that there is no burn hazard (no heat source).  However, from what I understand, you need to replace the filter once in awhile and also, eventually furniture will be covered by white "dust".  The water, with everything in it (dust, particulates, etc) get vaporized and distributed.
I chose the warm mist humidifiers (the old school type).  No white dust.  Basically it's like boiling water and the steam gets distributed in the room.  There is a burn hazard, so one has to be careful.  Because it is essentially boiling, the particulates and contaminates gets left behind and the unit needs to be cleaned often. So as you can see, there's pros and cons for both.  I chose the one with "less cleaning"…hahaha.
Our Experience: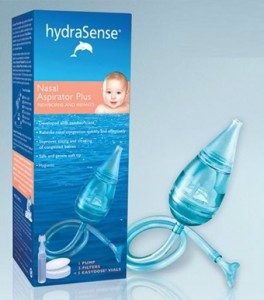 We ended up using a mix of the nasal aspirator and the warm-mist humidifier.  Our friend, Keith, recommended the HydraSense aspirator that is basically a contraption that lets you control the suction with your breath. Here's a video of how it works. It works a lot better than the average bulb aspirator AND it's see-through so you can actually see if it's doing its job.  (Maybe we're just weird but there is a sense of satisfaction and victory when you catch a big boogie.)
It comes in a little kit with saline drops and filters.  At first, we used saline + aspirator, but Alena really didn't like the saline in her nose. She would cry and cry and cry until it was over. Later on, we rarely used the saline and just the aspirator. And Alena was fine with it and didn't cry. Note of caution: it takes a surprising amount of effort to suck out a baby booger. Many times I would be out of breath afterwards (this is magnified by the fact that I'm out of shape).
We found that after using the humidifier (which we bought on sale at Canadian Tire for $25), Alena's nose didn't get clogged as much (down from several times a week to less than once a week) which meant we didn't need to use the aspirator as much.
photo credit:
cajebo
via
photo pin
cc