This post is part of our series "Facebook Q&A about Parenting" where we went to our friends and family on Facebook to get advice on parenting.
The Question: Should we use Cloth Diapers or Disposable Diapers for our baby?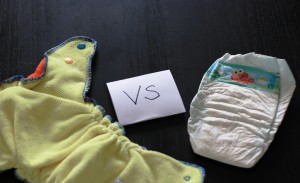 The Answers:
[disclaimer: not all of our friends that answered this question are parents, so there's a mix of experience and innocence in the answers]
Darren: "Cloth all the way. More economical, better for the environment, and we've NEVER had a poopy explosion with our cloth diapers (we use flats and rubber pants though). We also prefer it though b/c the chemicals on the disposables irritated our baby's skin"
Daisy:  http://www.happybabycheeks.ca/why-choose-cloth/
Evan: "No matter what the disposable person will win in the end. Just wait for the first few weeks of cloth diapers."
Esther: "Split pants?"
Jen: "Cloth! :) With disposables for trips and backup. This has worked for us anyway :)"
David: "Cloths can be expensive to clean and or replace, but disposables never have to be cleaned. There is always the option of letting them go free. In some areas of Africa, where diapers don't exist, babies just go and the parents just wipe up the mess."
Sarah: Cloth diapers are more economical and it is better for our environment but it is very time consuming"
Karen: "My main leanings are to do with the environment, there's a lot of waste with disposables, they have to go in the landfill…. but there's a lot of clean water wasted with cloth diapers…."
Wakana: "Cloth was good until our son was trying to roll over but couldn't because the cloth diaper was too bulky and got in the way! That's when we gave up. Also, we used both in the early months. We used disposable when he slept longer and when we went out. We didn't want a dirty diaper be a reason to keep him from sleeping."
Kati: "Disposable. Way easier."
Josh: "We started off with cloth, but then did disposable as we did a lot of traveling and didn't have the time or facilities to continue on with using cloth (you need detergent, drying facilities and enough room in your luggage!). Once we stopped traveling, we never went back."
Maggie: "We started with disposable, but her bum got so red we change to cloth, now when we are home we do cloth, when we are out, disposable"
Shannon: "We found that disposablesleak way more and I find that they stink WAY more. Not sure if it's the plastic or what. And now that our son is eating solids (obviously, since he's two) we use flushable liners in the cloth diapers and then chuck the solids in the toilet so really, the cloth don't smell in the bucket because most of the poop is flushed (versus disposables where poopy diapers are sitting there for days). You mentioned that doing the laundry is more of an environmental problem than disposables but check out this information link. We found this site super useful in helping us decide about wash-at-home cloth diapers: http://www.newandgreen.com/info_DisposableversusCloth.html
What we ended up doing:
Our cousin generously gifted us with a cloth diaper service (thank you Matt and Bonnie!) so after some research we ended up using the Happy Nappy Cloth Diaper Service (now called Happy Baby Cheeks Diaper Service in Lower Mainland, BC). Olive writes about our experience using this diaper service in her blog posts. We do use disposable diapers when we take Allie out.
Thanks for all our friends that answered this question!