"Are you a dangerous woman? PROVE IT." Such were the opening words for the invitation to the SheLoves Magazine event I received. My first thoughts: "I'm NOT a dangerous woman. And who are you to ask me to prove it?!"
And yet, I RSVP'd "Yes," bought my ticket and marked it in my calendar.
I went because I wanted to meet these women in person. I'd wanted to meet them for the last year and a half. These were the women who had agreed to publish my amateur writing on their incredible online magazine. These were the women whose writing, lives and hearts inspired me in my journey. These were the women who I'd become online friends with through likes, shares, comments and private messages.

"Deep breaths," I kept telling myself as I drove to the event. I felt anxious and excited. When I finally stepped into the venue and began meeting everyone, I was in awe at just how beautiful each woman was.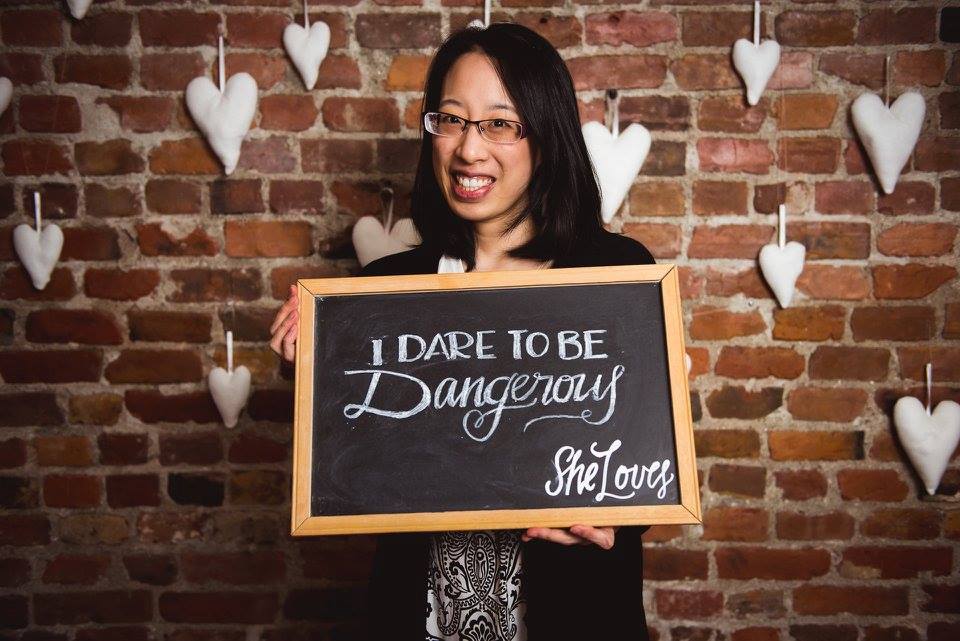 During the evening, Idelette McVicker, chief editor of SheLoves Magazine, challenged us to find our individual dangerous dare to fulfill in these coming three months. (Here's what she means by "dangerous.") "Let's go be our most dangerous glorious, most fully awake self," she invited.
I felt blank.
My life at the moment was full of trying to function sleep-deprived, attending to a teething baby, preschooler activities, meal planning, grocery shopping, laundry, dishes and trying to squeeze in a few hours of work here and there. Pretty humdrum and mundane. I felt like I didn't have it in me to do anything risky. I was so spent, how could I be daring? Wasn't showing up to this event dangerous enough?
As I stopped to say good-bye to Idelette that night, she casually invited me to join her life group. "We are a group of women who do life together. We meet every other week. You're welcome to join us if you need a place to land," she said. I told her thanks, but her home was a bit far from my house, and I barely had the energy to cope with life as it was already. I resisted her invitation, but deep down, I knew it was divinely inspired.
Over the next week, her words echoed in my heart, "If you need a place to land." That was me. I'd been floating for a while now. Ever since Kayla was born, I hadn't had regular face-to-face community. Sure, I had friends that I connected with – but it was sporadic and mostly online. The church home group I'd been a part of was no longer meeting. I rarely made it out on Sunday mornings even. And most of my close friends lived half a country away. I had grown accustomed to being a hermit, to living in my sweatpants, to not really needing to answer the question, "How are you, really?" Even as an introvert, my soul was withering for lack of human connection.
I realized that her dare wasn't about proving myself to gain approval. It wasn't about adding to an overflowing plate. It was an invitation to live into the fullness of my life. To be more me.
The thought of being physically present in a group of people was scary. They would be able to see the bags under my eyes, my worry lines, and my sometimes unwashed hair. They'd be able to read my posture and notice my anxiety, uncertainty or exhaustion, even if I didn't say a word. They'd be able to testify that I only own two pairs of jeans (neither of which fit me comfortably). They would, more likely than not, see me cry. I wouldn't be allowed to hide behind a screen any more. I didn't know if I could dare to let myself be loved in person.
I talked with Tim. There's something about these women, I told him. They have vision. They see the bigness of God and understand that they have a part in a much larger world. They are authentic. They love well. I need that.
"Go," he encouraged me. Half an hour drive isn't that far.
And so, I poked my head out of my turtle shell and asked to get connected to the life group. Even though going out in the evening meant less sleep. Even though I was petrified of driving more than ten minutes at night. Even though it felt like these women were way out of my league. Even though I barely knew any of them.
Because this is what I need in my life right now:
To be known. To be seen. To be embraced.
To love and be loved.
In the flesh.
I might not feel like a dangerous woman (yet?), but this is what I will dare to do.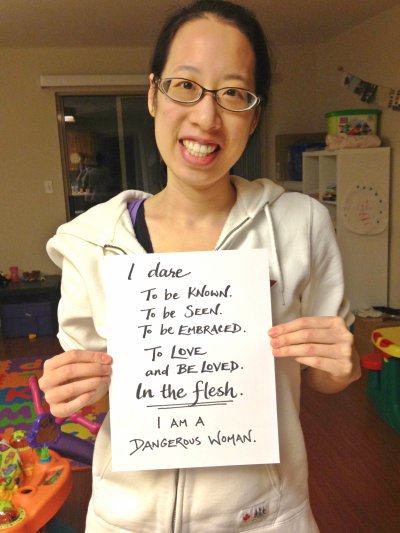 PS. How can you live more fully into your life at this time, dear reader? Will you join me in this dare to be dangerous?