Does attending a marriage conference really make a difference? Why would a couple want to go to a marriage conference anyway? If our marriage is doing well, would we still benefit from going to a marriage conference? Those are the questions my wife and I asked ourselves when we first heard about the Weekend Getaway marriage conference put on by Family Life Canada.

According to Sharol Josephson, co-Director of Family Life Canada, only 20% of couples ever invest in building their marriages (i.e. reading a book, attending a seminar or conference, or taking a class). Perhaps it's because many people think that if they are in love, then their marriage should just work. Most don't realize that developing a good marriage takes time, intention, and hard work.
Sydney J. Harris insightfully says,
"Almost no one is foolish enough to imagine that he automatically deserves great success in any field of activity; yet almost everyone believes that he automatically deserves success in marriage."
In the spring of 2010, Olive and I decided to attend Family Life's Weekend Getaway Marriage Conference (formerly known at A Weekend To Remember). We invited some of our friends and three other couples ended up coming with us to Kelowna, BC to spend the weekend. My wife and I weren't having any major problems in our marriage but we were open to learning and growing. After we arrived, we were amazed to find that some couples there were repeat attendees (for one couple, this was their ninth marriage conference!) while others were just engaged.
We were pleasantly surprised to discover that the speakers were Paul and Eleanor Henderson (yes, the same Paul Henderson who scored the winning goal in the classic Canada-Russia series in 1972). The other speakers were Bruce and Denise Gordon, who we knew and respected. Both couples took turns speaking and shared personal stories as well as insightful marriage advice. They were vulnerable and told us about their own personal struggles, which we appreciated. They were also funny – which was an added bonus!
This conference wasn't all sitting and listening but included break-out times where you spent time with your spouse and digested the material. Also, on the Saturday evening, they slotted out time for the couples to go on a date, which was really nice.
All our friends were impressed with the weekend and the quality of the event, as were we. Going to the conference gave us insights into better communication and conflict resolution. It also improved our sex life. Most of all, we appreciated the perspective of the speakers who had been married for over 30 years and hearing how they'd built and developed their marriage over time.
Here's a quick promo video about the weekend, with a few short testimonials from couples that have gone: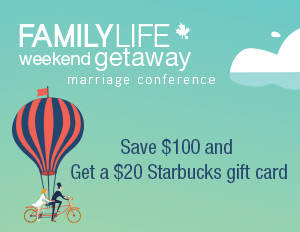 The Weekend Getaway is time well invested. We're excited because Family Life has offered readers of our blog a special deal where you can save $100/couple on a your registration fee. The regular price is $380 per couple (this does not include accommodation or food). If you register using the links on this page, you and your spouse can attend for the price of $280. As a special bonus gift from Olive and me, you will also get a $20 Starbucks gift card if you sign up using the links. Just email us with your registration confirmation and mailing address. (Note: This offer applies to Canadian conferences only.)
If you're a pastor of a church, you and your spouse can get a specially reduced couple's rate to attend the conference.
The Weekend Getaway schedule for the 2016-2017 season is below (click on the links to register):
Whistler, BC – November 4-6, 2016
Jasper, AB – November 18-20, 2016
Blue Mountain, ON – November 18-20, 2016
Victoria, BC – February 17-19, 2017
Niagara Falls, ON – March 10-12, 2017
Montebello, QC – April 21-23, 2017
For full details for the Weekend Getaway, go to the Family Life website. If you register, remember to use the registration links above and email us with your confirmation so we can send you your $20 Starbucks card!
Details: This deal is only valid for couples registration. The regular cost of the Weekend Getaway is $380/couple and becomes $280/couple with the coupon code. Every couple that registers using the links on this page and emails timtchan@gmail.com with their registration confirmation and mailing address is eligible to receive one $20 Starbucks card as a gift from www.timandolive.com.