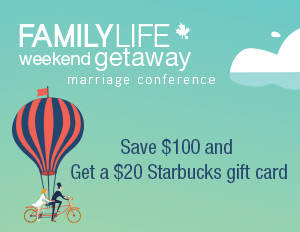 The Weekend Getaway is time well invested. FamilyLife's Weekend Getaway marriage retreat (formerly called the Weekend to Remember) allows you and your spouse to re-connect, focus on one another and spend the quality time you need to let your relationship breathe. It features 2 pairs of speakers, both married couples, who give expert advice on practical ways to improve your marriage. But it's not just them talking and you listening, the weekend includes many practical activities that allow you to work with your spouse on your marriage. It's interactive, fun, and engaging.
We're excited because Family Life has offered readers of our blog a special deal where you can save $100/couple on a your registration fee. The regular price is $380 per couple (this does not include accommodation, parking, or meals). By using the special links below, you and your spouse can attend for the price of $280. As a special bonus gift from Olive and me, you will also get a $20 Starbucks gift card if you sign up using those links. Just email us with a copy of your registration confirmation and your mailing address. (Note: This offer applies to Canadian conferences only.)
If you're a pastor of a church, you and your spouse can get a specially reduced pastor's rate of $180/couple to attend the conference (our offer does not apply to this rate).
This Weekend Getaway is something that Olive and I have gone to and enjoyed [read our review of the Weekend Getaway]. Plus, many of our friends have gone and found it beneficial as well.
What's the schedule like for this weekend?
Friday Evening:
5:00-7:00 – Registration
7:00-7:30 – Welcome Session
7:30-9:00 – Love That Lasts: Marriage Oneness
Saturday:
9:00-10:00 – We Need To Talk
10:00-11:00 – Couples Project
11:00-12:30 – I Do. No Clue.
12:30-2:00 – Lunch
2:00-3:30 – Oneness in Disguise
3:30-3:45 – Break
3:45-5:00 – Great Sex Equation
5:00-bedtime – Saturday Evening Date Night
Sunday:
9:00-9:15 – How Well Do You Know Your Mate?
9:15-10:00 – The Heart of Marriage
10:00-10:15 – Break
10:15-11:15 – 5 Things Your Spouse Wants You To Know
11:15-11:45 – Couples Project
11:45-12:30 – Together For Good: Oneness Plan
Here's a quick promo video about the weekend, with a few short testimonials from couples that have gone:
The Weekend Getaway schedule for the 2016-2017 season is below (click on the links to register):
Whistler, BC – November 4-6, 2016
Jasper, AB – November 18-20, 2016
Blue Mountain, ON – November 18-20, 2016
Victoria, BC – February 17-19, 2017
Niagara Falls, ON – March 10-12, 2017
Montebello, QC – April 21-23, 2017
For full details for the Weekend Getaway, go to the Family Life website. If you register, remember to use the registration links above and email us with your confirmation so we can send you your $20 Starbucks card!
Details: This deal is only valid for couples registration. The regular cost of the Weekend Getaway is $380/couple and becomes $280/couple with the coupon code. The registration cost does not include hotel, parking, or meals. Every couple that registers using the links on this page and emails timtchan@gmail.com with their registration confirmation and mailing address is eligible to receive one $20 Starbucks card as a gift from www.timandolive.com.