In the course of preparing for baby's arrival, I've come across some great resources for new moms and dads that I thought I would share – especially for people who live in the Vancouver area (although I think that most, if not all, of these resources are available Canada-wide).  Most of them were either recommended to me, or I found them myself.  [Note: I am not affiliated with any of these companies, nor am I being compensated for mentioning them here.  I'm simply passing along the good stuff I've found.  I must also mention that we are part of the Amazon Affiliates program.  That means if you choose to buy a book through our links, we will receive a bit of commission – so we promise to be honest about our reviews and let you know what we found helpful.]
Prenatal yoga video podcasts:  Mamaste yoga (link)
I had originally wanted to attend a prenatal yoga class but there weren't any close by.  I found this one online and loved it.  My favourite was their 20 minute daily practice and I tried to go through it at least twice a week throughout my pregnancy.  I found that the stretches, positions and exercises helped to alleviate and prevent back and hip pain.  I also found that at the end of the routine, I would feel more relaxed and it got me into the habit of taking deep breaths to relax my body.  Toward the end of my pregnancy, I would do some of the stretches and exercises I learned from this podcast at the end of each day before I went to sleep. In addition to the yoga routines, I would try to take a 20 minute walk every day (especially on the days I did not do yoga).
Pregnancy and baby books:  Local library
I'm a huge fan of the local library.  I borrowed so many books, especially in my third trimester as I began to prepare for parenting.  I good tip I received was to spend more time learning about baby's feeding and sleeping and less on the labour and birth, because the birth will happen however it will, but feeding and sleeping you'll have some measure of control over how to approach it.  Books that I found most helpful were:
A few other books that have been recommended to me but I haven't had a chance to read them yet are:
Pregnancy apps (I have an iPod touch):
The day I found out I was pregnant, I immediately downloaded a few different pregnancy apps to help me track and keep me informed throughout the pregnancy. All of them can access discussion forums, which I found especially helpful during the first trimester when I wasn't sure if my symptoms were normal or not. I'm cheap, so I only chose ones that were free.  I tried out a bunch of them and here are the three I ended up sticking with (and the reasons why I liked them):
Free Prenatal Breastfeeding Class:  Fraser Health
Our local health unit offers a free 2.5 hour class on breastfeeding.  Even though we'd covered the topic in our prenatal classes, I still learned some new things from the class.  I was extra impressed because they offered snacks during the break!  And at the end, in exchange for filling in an evaluation form, they gave each baby this really cute t-shirt: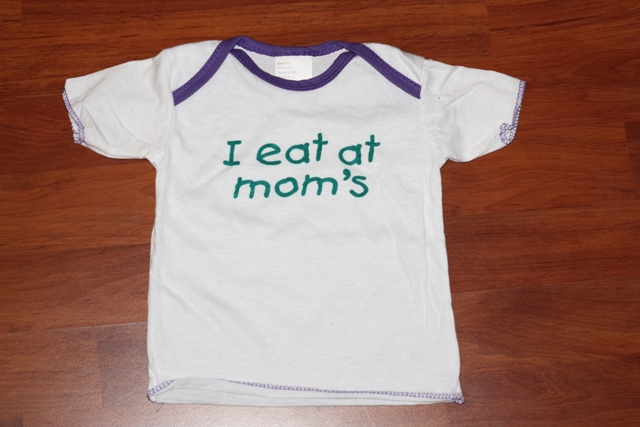 I should also mention that Fraser Health offers a free handbook called Baby's Best Chance to all parents.  I signed up for one at my OB's office and they mailed it to me.  But you can also pick one up at your local health unit or view it online (link above).  It's a very thorough and helpful reference book for pregnancy, labour, and caring for an infant.
Baby goods, samples and coupons:
Isn't this was everyone wants?  Free baby stuff!  There are actually tons of freebies waiting for new parents to try.  Obviously, companies want to get you and your baby hooked on using their products as early as possible.  I was curious as to what I would really receive, so I signed up for everything I could find (I confess, I also love getting stuff in the mail!).  Most of the baby programs also include e-newsletters with information, tips and videos.  Here are the programs I signed up for, and what I've received from them so far (that I can remember):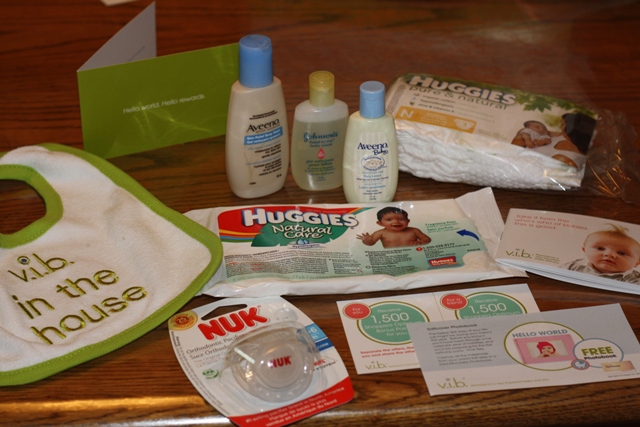 Included in this pack of freebies:  "Very Important Baby" bib; Nuk orthodontic pacifier; Huggies Natural Care wipes; Huggies Pure and Natural newborn size diapers (3 pack); sample sizes of Aveeno baby wash, Aveeno baby lotion, Johnson and Johnson baby wash;  coupon for one free photo book; and a booklet of coupons for extra Shoppers' Optimum points.
Update:  We just found out that BCAA does carseat safety checks.  Currently, they offer free ones in Langley and in Richmond.  (They have other locations around Greater Vancouver but charge a fee for most of them.)  For a safety checklist and more info, click here.
Update [July 2013]: I just found out about the Books for BC Babies program where you can get a free book, CD of children's music, bag and other resources courtesy of the BC libraries. In the Tri-cities, you can pick it up at the local Health Unit.
There are probably other promotions and freebies out there, but these were the resources I came across in the course of this pregnancy.  Hope you find it helpful!  And if you've discovered anything I've missed, feel free to leave a comment.  Here's to a happy and healthy nine months and beyond!
What are other free baby resources you've come across in Greater Vancouver?