Olive and I have had the privilege of working with award winning author Mike Mason recently on growing his social media presence. He is the author of the best-selling book, The Mystery of Marriage, which has over 200,000 copies in print. Mike lives in Langley, a 30-minute drive from our home, and is a thoughtful, kind, soft-spoken man in his 60's.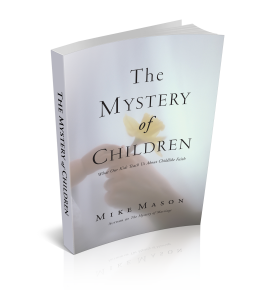 Recently, he decided to give away one of his books. It's title The Mystery of Children: What Our Kids Teach Us About Childlike Faith. Here's how Mike describes the book:
This is a beautiful companion volume to my best-selling The Mystery of Marriage. Just as that book explored the parallels between marriage and our relationship with God, so The Mystery of Children illuminates key spiritual truths modeled in the complex parent-child relationship. More than a manual on parenting, this book is for everyone who wishes to become childlike in heart or to be closer to children—two desires that are intimately and wondrously entwined.
Just click on the image of the book to go to the download page. Enjoy!