I was very excited to receive my copy of "God In My Everything" because the author, Ken Shigematsu, is my mentor and I respect him greatly. This is a review of the book.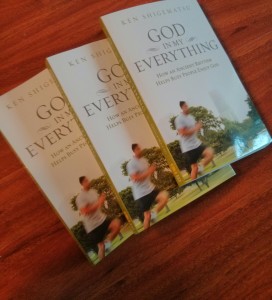 The book is about developing habits and rules in your life that help you grow your relationship with God. The concept of the book came from a pilgrimage that Ken took to Ireland, where he visited a monastic community that was formed in the sixth century. During the 10 days he got to learn about and experience the daily habits and routines of the monks in the community.
Ken came away from the pilgrimage deeply moved and inspired, and asked himself a question, "Is it possible to follow the monastic way, enjoying God in every area of my life, while immersed in the busy routines of modern life?" How can we learn to enjoy God's presence in our rhythms of work and rest, study and play, community and solitude? Those questions are answered in this book.
What I found refreshing about the rules of life, or spiritual practises, that Ken introduces is the flexibility in which he presents them. "Spiritual practices are not ends in and of themselves," Ken writes. "We need a rule that bends. We don't exist for the rule. The rule exists for us." He suggests that for different seasons of life, you will introduce different rules to live by. And when the rules do not facilitate growth, then you have the freedom to change them.
"God in my Everything" includes rules for all aspects of life, including: Sabbath, Prayer, Scripture Reading, Friendship, Sex, Family, Food, Exercise, Play, Money, Work, and Evangelism. I appreciated how Ken took time to think through how every aspect of life can be an opportunity to experience and know God.
Here are a few of my favourite quotes from the book:
– "There is no simple, mechanical formula to product spiritual growth: if you do x, then y will happen. This is why the practices that become part of our rule of life must be Spirit-led and deliberate. As our life circumstances change and the Spirit moves, our disciplines will also change over time.
– "There is no shortcut to holiness. It must be the business of our entire lives. So let us begin."
– "We need to ask ourselves why we are so busy."
– "The Chinese character for busy combines the pictographs for heart and death, suggesting that busyness kills the heart."
– "Every young man needs an older man in his life, not to receive knowledge from him, but to receive his spirit."
– "Self-care is never a selfish act – it is simply good stewardship of the only gift I have, the gift I was put on earth to offer to others."
– "A rule of life isn't about trying to cram more into our already crowded lives. It's about saying no to certain things in order to say yes to others."
My wife and I attended Ken's church for four years, and what I always appreciated about Ken's preaching is his engaging style. He shares stories from his own life and the lives of others, explains relevant Scriptures from the Bible, uses quotes from leaders of the present and past, and explains results from research work that has been done. Ken uses the same relatable style in his book, which makes the book a highly interesting, entertaining, and inspiring read.
I would recommend this book for anyone who feels stuck in their spiritual growth or for anyone that wants to grow in their faith. Every chapter includes several discussion questions which make this book an excellent small group resource.