Everyone loves to be amazed. They love being surprised by something that is awesome, breathtaking, inspiring… something that has a WOW-factor. That's why people love travelling – going to see the Grand Canyon or the Eiffel Tower or the Great Wall of China. That's why people love watching great movies with unexpected plot twists, amazing graphics, and moving performances. That's why people enjoy watching reality TV talent shows or singing, dancing, cooking, home renovation competitions. We all love to be amazed.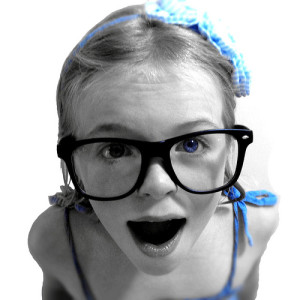 Well, let me tell you one way you can live amazed. It's guaranteed to leave you continually amazed and let you live in wonder and surprise each and every day.
Be a parent.
Ever since Olive and I became parents, we have lived amazed. Our 18 month daughter Allie never ceases to amaze us with the things that she learns.
For example, last week she surprised us with her memory in reciting part of the "Humpty Dumpty" nursery rhyme. We caught her skills in action in this video:
Can't see it? Watch it at this link.
Or watch this video, where Allie amazed us by filling in the blank for many of the words in her favourite book, Millie Goes Shopping.
We're extremely proud of Allie. She continues to learn at a pace that amazes us. Do you want to live amazed? Be a parent.
—
This week we're giving away 5 books to our blog readers! Which books?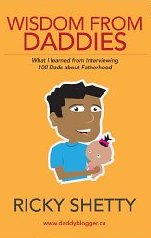 Wisdom From Daddies by Ricky Shetty [retail price: $9.97]
This is a brand new book written by our friend who blogs at Daddy Blogger. Over the past 6 months he has interviewed 100 fathers, asking them for advice on being a dad (one of the dads he interviewed was me!) He compiles all the wisdom he's learned into this book. We're excited to give away 3 signed copies of this book.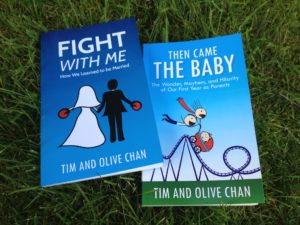 Fight With Me by Tim and Olive Chan [retail price: $9]
Refreshingly engaging and unabashedly honest, this book is our account of our attempts to start our marriage well. In this fun, approachable and practical book, we draw from real-life stories to offer an inside look at the triumphs and failures we encountered as we learned to be husband and wife. Written with both of our perspectives, this little gem is not a "how-to" guide but rather a "how-we" companion for anyone who longs for deeper relationships. We're giving away 1 signed copy of this book.
Then Came The Baby by Tim and Olive Chan [retail price: $12]
Simultaneously thoughtful and laugh-out-loud funny, this book is our candid, entertaining and reflective answer to the question, "What's it like to be a first-time parent?" With the same engaging storytelling as our first book, Olive and I recount the joys, challenges, poignant moments and lessons learned from pregnancy to our daughter's first birthday. Written in a personal "he said/she said" style, we offer an uncensored view of the remarkable roller coaster experience that is first-time parenthood, inviting the reader along for the ride. We're giving away 1 signed copy of this book.
How can you win a copy of the book? There are a few ways you can submit entries. Olive and I will personally select the winners. If you win, we'll email you to let you know, and mail you your book. [The contest ends July 15th]
Click on the following link if you do not see the contest box above:
http://www.rafflecopter.com/rafl/display/65e3a91/
photo credit: rolfekolbe via photopin cc