Update: Our ebook is no longer free on Kindle, but subscribers to our newsletter will receive the PDF version of the book as a gift (see sign-up box on the top right). 
Happy 12.12.12. To celebrate this cool date, we're giving away our ebook "Fight With Me: How We Learned to be Married" on Kindle! It will be free for 2 days.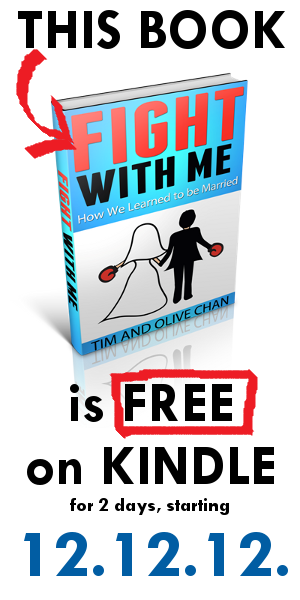 It's been a dream of Olive and mine to write a book together, and this is our first one. In the book we reflect on our first few years of marriage. We believe that the beginning of a marriage is both a unique and important time, so we've collected our observations, experiences, and lessons learned into this book. We try to be as honest as we can about the joys and struggles we faced, in hopes of encouraging others in their own journey, whether single, dating, or married. This isn't a "how-to" book, but a "how-we" book.
Here's what a few people have said about the book:
"I found it relatable to an alarming degree which was comforting and the stories were refreshing, sweet, and so true!" – JT

"It helped me reflect on what my personality type is and what gets me going, especially when it comes to areas of communication. There are a number of principles in there that I found were fresh ideas that I would like to apply in my own life." – Peter

"It has been a long time since I have been moved by a book that taught so many valuable life lessons. Tim and Olive write in a heartfelt manner that truly moved me. I laughed, and I cried." – Vincent

"I only spent an hour reading this book and what a delight! It was a fun and easy read. Best of all it was very real, authentic, and vulnerable – something I could relate to… I was left with an overall hopefulness and courage to continue to "fight" with my husband for the benefit of our marriage!" – Sarah
For today and tomorrow only, we are giving away the book on Kindle. It's a chance for you to get a copy for yourself, but also to give it away to as many friends and family members as you want!
The great thing about Kindle books is that you don't need to own a Kindle reader to read the books. You can download the Kindle Reading App and read Kindle books on your computer, tablet, or smartphone. I like the Kindle reading app because it formats the text of the book to fit your screen, and you can make the font size larger or smaller so that reading is comfortable.
"Why are you giving away your book?" many people have asked us.
There are two reasons. First, giving away something for free is a great way to reach new readers. Since we're new authors, we're doing the hard work of growing our readers.
The biggest reason is that we want to be as generous as we can. We wrote the best book we possibly could and are giving it away to as many people as possible. We hope that you will join us in being generous by sharing the book to those you think would appreciate it.
With Christmas around the corner, this book is our gift to you to say thanks for reading, commenting, and encouraging us. Without you reading our blog, we would have never written our book.
We're grateful for you,
Tim and Olive