"Courage is not the absence of fear, but action in the face of fear." – Unknown
As we launch into 2013, Tim and I both feel significantly drawn to the word, "Courage." It's an invitation, a challenge, a rally cry and a prayer.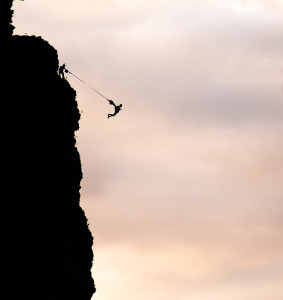 On the second day of this new year, we asked his parents to spend the day with Allie while we stole away to a hotel five minutes down the street and had a Blue Day (a full explanation of Blue Day can be found in our book, "Fight With Me.") We evaluated our life, dreamed for the future, talked, listened and made some important decisions in the areas of family, work, faith community, home and finances. Before we dove into all that though, we took some time to separately reflect on what our word for this year might be.
Ever since the first year of our marriage, we have adopted a word to focus on for each year. Instead of coming up with a list of new year's resolutions, we would decide on one word to center the year upon (Alece Ronzino explains the one word concept wonderfully here). That first year, our word was "Intention." The next year, it was "Savour." Last year, we had new-parent-foggy-brain and didn't think to choose a word (although in retrospect, perhaps it could have been "Change" since we moved homes and both switched careers.) Which brings us to this year's word: "Courage."
2013 carries several uncertainties for us. We have 8 remaining months that we've set aside to work on our blog and book writing. How far will it grow and how will our writing be received? We also most likely have a family trip in the works for Asia. How will we fare traveling halfway across the world with Allie in tow? We pray as well for another child. Will God answer us this year? And if He does, will we be able to handle it? We need much courage if we are to embrace the unknown and make the most of each day.
Courage has a slightly different meaning for Tim than it does for me. Tim has been reading the book, "Daring Greatly" by Brené Brown and his inspiration toward courage comes in part from there. For Tim, courage for this year means continuing to take action in spite of the fear he feels in various arenas of our lives. The source of his courage comes from knowing that we are loved and worthy of love regardless of success or failure.
For me, Courage is linked to these words spoken to a warrior named Joshua many centuries ago: "Be strong and courageous. Do not be afraid; do not be discouraged, for the Lord your God will be with you wherever you go." (For the Bible reading types, this can be found in Joshua 1:9). At the start of this new year, as I think about our uncertain future, I am invited to boldly step into all that God has already prepared for me. And I am reminded that courage comes from knowing that I do not go anywhere alone.
What is in store for us this year? Time will tell. Regardless of what it may be, however, we will hang on to our "word" and move forward with Courage.
  photo credit:
GoneBush
via
photopin
cc