Have you ever wondered what being a first-time parent is really like? Once a couple has a baby, they often disappear from the world. They stop going out and hide away in their caves. No one knows what their life is really like… until now.
In our new book, Then Came The Baby: The Wonder, Mayhem and Hilarity of Our First Year As Parents, we give an inside look at the roller coaster ride of being new parents. With the same honesty and humour as our first book, Fight With Me: How We Learned to Be Married, we reflect on the changes, challenges and joys of being a first-time dad and a first-time mom.
This book is for you if you are:
–  Thinking about having children in the future – this book gives you an authentic picture of new parenthood, from a dad and a mom's perspective
–  Expecting your first child – this book will help you prepare for the roller coaster ride that is coming up
–  Have children – this book is relatable; it will encourage you and help you reflect on your own parenting journey
–  Curious about life with a new baby – this book will help you empathize with the new parents in your life
Then Came the Baby consists of 5 Sections and 41 short chapters where we reflect on the feelings of new parenthood and tell stories of what happened that first year. Each chapter includes the perspective of both a new father (Tim) and a new mother (Olive). Each section focuses on how parenthood impacted a different area of our life:
1.  Pregnancy and birth,
2.  Our role as new parents,
3.  How we as individuals changed,
4.  How having a baby impacted our marriage, and
5.  How having a baby impacted how we interacted with our family and friends.
Here's what people are saying about the book:
"My wife and I just had our first baby a few months ago and wished that we had a book like this as we were slogging through the first months of post birth. What Tim and Olive have done, simply put, is make me realize that I'm not crazy after all." – Benjamin, First-time Dad

"I especially appreciate the honesty, openness, and vulnerability documented by the Chans." – Esther, Soon-to-be Mother

"I really liked how this book went through the different emotions and challenges, positive and negative. As a not-yet-parent I found this helpful and encouraging. They addressed a lot of fears I have personally while showing the fun (and funny) side of parenting. Overall, I found it refreshing and encouraging, real, reassuring and very honest." – Jess, Married without kids

"The authors were incredibly honest about their journey as new parents. I started reading this during my lunch break at work and found it impossible to put down. I highly recommend it." – Jane, Engaged to be married

"Tim and Olive have such openness and humour in their book. I highly recommend this book to anyone who are planning or even thinking about having kids in the future." – Pearl, Single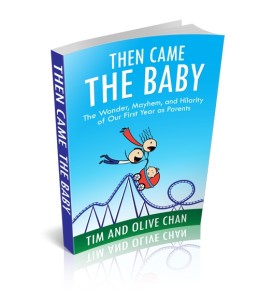 The best news is the price. You can buy this eBook at just $4.97, about the cost of a coffee and a muffin at Starbucks.
To purchase your copy of Then Came the Baby, visit Amazon.com.
PS. Don't have a Kindle reader? Don't worry. Simply install the free Kindle reading app from Amazon on any computer or mobile device and start reading our book!