The theme for Advent week 2 is peace. I've collected a few quotes about peace to reflect on this coming week.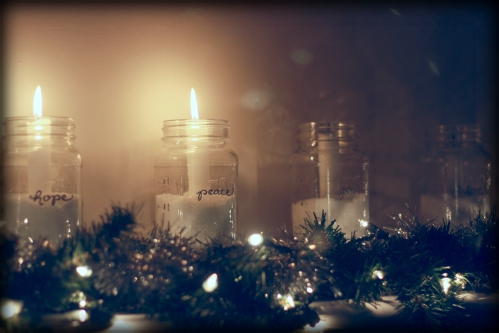 When the power of love overcomes the love of power the world will know peace. – Jimi Hendrix

Peace cannot be achieved through violence, it can only be attained through understanding. – Ralph Waldo Emerson

It isn't enough to talk about peace. One must believe in it. And it isn't enough to believe in it. One must work at it. – Eleanor Roosevelt

If you want to make peace with your enemy, you have to work with your enemy. Then he becomes your partner. – Nelson Mandela

God cannot give us a happiness and peace apart from Himself, because it is not there. There is no such thing. – C.S. Lewis

Peace is more important than all justice; and peace was not made for the sake of justice, but justice for the sake of peace. – Martin Luther

First keep peace with yourself, then you can also bring peace to others. – Thomas a Kempis

While you are proclaiming peace with your lips, be careful to have it even more fully in your heart. – Francis of Assisi
Here are a few verses from Scripture about peace:
Matthew 5:9 Blessed are the peacemakers, for they shall be called sons of God.

John 14:27  Peace I leave with you; my peace I give to you. Not as the world gives do I give to you. Let not your hearts be troubled, neither let them be afraid.

Philippians 4:6-7 Do not be anxious about anything, but in everything by prayer and supplication with thanksgiving let your requests be made known to God. And the peace of God, which surpasses all understanding, will guard your hearts and your minds in Christ Jesus.

Isaiah 9:6 For to us a child is born, to us a son is given; and the government shall be upon his shoulder, and his name shall be called Wonderful Counselor, Mighty God,
Everlasting Father, Prince of Peace.

Colossians 3:15 And let the peace of Christ rule in your hearts, to which indeed you were called in one body.
Some questions for reflection:
What does peace look like in your life?
Where do you see peace today?
Is there an area of your life where you need peace?
Where do you look to find peace?
In what way(s) are you an instrument of peace?