Recently I read Blake Mycoskie's book, "Start Something that Matters". Blake is the founder and "Chief Shoe Giver" of TOMS. It outlines the inspiring story of TOMS, a social enterprise that has given over 1 million new pairs of shoes to children in need.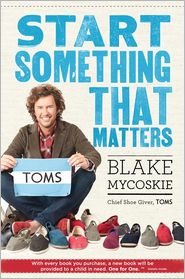 It all started when Blake took a trip to Argentina and discovered that many children did not have shoes, which caused blisters, sores, and infections. There were charities giving out shoes to the kids, but they were dependant on donations, which meant they had little control over the supply of shoes. Being an entrepreneur, Blake came up with the idea of starting a shoe business that would fund the giving of shoes. This business would make profits while aiming to do good in the world – this type of business is called a social enterprise.
Blake developed a simple concept: sell a pair of shoes today, give a pair of shoes tomorrow. His "Shoes for a better tomorrow" motto became "Tomorrow' Shoes" and finally just TOMS. Shortly after the company started, Blake, his family, and a few friends went on their first "Shoe Drop" to give away their first 10,000 pairs of shoes. This is what Blake writes about the experience:
"The kids, anticipating a new pair – or their first pair – of shoes were so eager for our arrival that they would start clapping with joy when they spotted the bus rolling into town. I broke down in tears many times. Oh, my God, I thought, this is actually working. At each stop I was so overcome with emotion that I could barely slip the first pair of shoes on a child without crying with love and happiness. Just nine months ago, this started with a sketch in my journal and now we were about to provide 10,000 pairs of new shoes to children in need. This is when it really hit me that a simple idea could have real impact, and that a pair of shoes could create so much joy."
Blake started TOMS when he was 29 years old. The interesting thing is that through starting TOMS, he also found his purpose in life.
"When I returned from that first Shoe Drop (giving away shoes to children), I was a different person. I also realized that TOMS wasn't going to be just another business for me. It was going to be my life, in the best sense. Each of the four other businesses I'd started were satisfying in different ways, but this one provided me with a sense of fulfillment unlike anything I'd ever felt before. All at once i made a living for me and everyone who worked at TOMS, it brought me closer to the people and places I loved, and it offered me a way to contribute something to people in need. I didn't have to compartmentalize any of my life's ambitions: personal, professional, or philanthropic. They all converged in a single mission."
I think this is what my generation (people under the age of 35) are looking for in life. A purpose that combines their personal, professional, and philanthropic life ambitions.
Are you looking for a single mission in your life?



Disclosure of Material Connection: Some of the links in the post above are "affiliate links." This means if you click on the link and purchase the item, We will receive an affiliate commission. Regardless, we only recommend products or services we use personally and believe will add value to our readers.