[This is a preview of a guest post I wrote for SheLoves Magazine]
"Haha, you're cross-eyed!" "Cross-eyed! Cross-eyed!" The kids in the schoolyard mercilessly taunted me. This, unfortunately, was one of my earliest memories at school.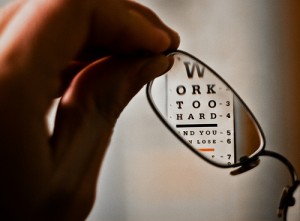 I started wearing glasses when I was six years old. In an attempt to cushion the awkwardness of needing corrective lenses, my mom picked out a pair of Minnie Mouse frames for me. The same ones my best friend from church had – except that mine were pink and hers were white. Apparently, having matching glasses with cartoon mice on the arms would make me like wearing them more. It didn't.
My grandfather was so nearsighted he was legally blind. Clearly, I'd inherited his genes. At every yearly checkup, my prescription would creep higher. I dreaded seeing the optometrist. Oh, she was a very nice lady. But each visit to her office meant a litany of tests, some stinging eye drops that made the world way too bright, a new prescription and eventually, a thicker pair of glasses that warped the floor for half a day. Wait till you're 18, they told me. Your eyes should stabilize by then. I clung to that hope.
I felt ashamed of my poor eyesight. If 20/20 was perfect vision, every year I was falling farther and farther from it. I felt like a failure.
You can read the rest of the article HERE.
photo credit: chrismar