As new parents, it's hard to find a regular babysitter and go out for date nights (like we used to). So we've had to use our creativity to find fun things to do on Friday evenings after Allie goes to bed.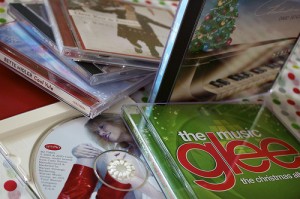 For date night this past Friday, Olive and I went shopping… online shopping. One of the things I look forward to in December is listening to Christmas music. So we loaded up an iTunes gift card and previewed dozens of songs. It was an enjoyable evening and now we're excited to listen to our new purchases.
To celebrate the start of December (and also the start of Advent), we decided to share our Christmas playlist with you. These are the 16 top Christmas songs we're listening to right now:
Christmas Dream – Theo Tams
Come Now Our King – Chris August
Emmanuel (Hallowed Manger Ground) – Chris Tomlin
Feliz Navidad – David Crowder Band
Gloria – Mercy Me
God Rest Ye Merry Gentlemen – Bethany Dillon
Have Yourself a Merry Little Christmas – Christina Aguilera
I Need a Silent Night – Amy Grant
I'll Be Home for Christmas – Jaci Velasquez
It's Beginning to Look a Lot like Christmas – Michael Buble
Jingle Bell Rock – Straight No Chaser
Mistletoe – Colbie Caillat
Song for a Winter's Night – Sarah McLachlan
What It Means – Jeremy Camp
Winter Song – Sara Bareilles & Ingrid Michaelson
Wonderful Christmastime – Jars of Clay
What are your favourite Christmas songs? Share with us by leaving a comment.
photo credit: colemama