[This is a guest post by our friend, the lovely Danica Grunert]
Last Saturday I was delighted to attend the opening day of the 5th annual Vancouver Christmas Market with my husband Matthew and our daughters Adora (12) and Grace (10). This is our first year living in the Vancouver area, so it was an extra special treat to take in this festive and traditional event.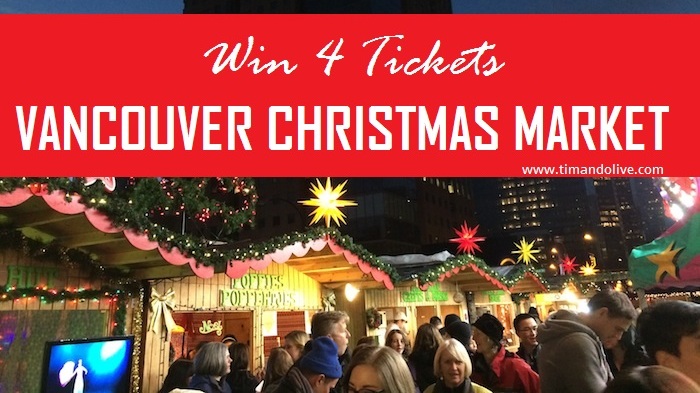 About the Market, Features and History
The market is located at the Queen Elizabeth Theatre Plaza and runs from 11am to 9pm daily from Saturday November 22nd right up until Christmas Eve. The market aims to be countercultural to holiday consumerism, and truly offers something for everyone. We saw people of all ages, from very young families with babes in arms, to groups of young adults hanging out together, to the more mature set reliving familiar traditions and looking for the perfect handmade gifts to give their loved ones this Christmas. The atmosphere is festive and fun and is based on the centuries-old concept of the German Christkindlemarkt. Vendors sell a variety of one of a kind, handcrafted gifts and an assortment of tantalizing food and drink to enjoy around an outdoor table with friends or to take home to savour during holiday celebrations. There is so much going on at the market, including live musical performances, a scavenger hunt, traditional holiday activities such as gingerbread decorating and ornament making. There are photo opportunities with the market's mascots Holly and Jolly, Santa, and all kinds of children's activities. The carousel ride delights the kid in everyone that the holiday inspires.
What We Did There
The Christmas Market was very busy on opening day, especially since it was a Saturday and the weather was so great. It was tricky to get around the crowds to see all of the booths, and we decided not to stand in the long line to get inside the world-famous Kathe Wohlfahrt store – the Market's biggest vendor and Germany's top ornament and decor company. Luckily I got a seasons' pass, so the four of us simply took the time to enjoy each other's company at this first event on our personal holiday calendar. I took note of a few items I was interested in purchasing, in particular a felted, banner-style advent calendar that I can hang in our living room and tuck little chocolates and gifts into. I plan on returning on a less busy day to shop, and to take in some more of the amazing live musical acts, and perhaps one of the Zotter's chocolate tasting and learning classes.
This time though, our family's focus was on the food! We attended the market in the late afternoon and sampled enough treats that I didn't have to cook dinner that night. We started off with warm salted German pretzels from the Brezelhaus. The four of us shared a couple of sauerkraut-smothered bratwurst from the Black Forest Delicatessen. My husband and I tried the traditional gluhwein, a hot wine or cider beverage mulled with spices and served in a collectable Vancouver Christmas Market mug. Our girls each tried a cup of the most delicious hot chocolate that we had ever tasted. It was made with real melted chocolate and had a hint of orange flavour. It was very rich! My husband couldn't resist washing his bratwurst down with a cold beer from the German Brewhouse (Krombacher Haus). We took a break from eating for a while to enjoy the carousel and some music, but before we left we finished off the evening with a dessert of warm cherry strudel with whipped cream. Here's a full list of vendors at the Vancouver Christmas Market.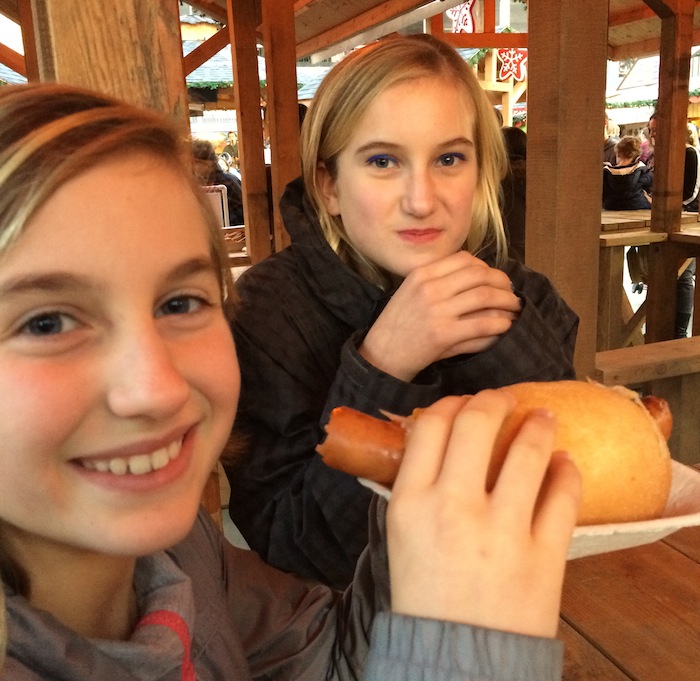 Check out The Website!
I would recommend taking a look at the Vancouver Christmas Market website before attending, because there is so much going on and you wouldn't want to miss the highlights that are most appealing to you. Plus, while many of the market's offerings are ongoing, some of the activities such as musical acts, chocolate making and tasting classes and Santa visits are scheduled in and you might want to plan accordingly. And if you just can't get there, many of the vendors sell their products through the website's online store. The market is a wonderful fixture in the Vancouver winter holiday scene. My family found it downright magical, and are looking forward to many returns this year and in the future.
We're Giving Away 4 Tickets
The lovely people at Vancouver Christmas Market have given this blog 4 tickets ($28 Value) to give away to one of its readers! For a chance to win, leave a comment on this blog post. Tim and Olive will choose a winner at 11:11am on December 5th. The winner will be contacted by Vincent at Vancouver Christmas Market with instructions about how to pick up the 4 tickets.
More Photos
About the Author:
Danica Grunert is a self proclaimed book nerd and a freelance writer. You can find her on Twitter or Facebook.