With wedding season almost upon us, we thought we'd write a post for people who are getting married, or people who are helping others plan a wedding. We got married almost four years ago and were the General Managers at my sister's wedding a couple summers ago. We've also been in the bridal party for several weddings and probably attended over 50 weddings over our lifetimes. These are some ideas that we've collected along the way to make a wedding memorable and enjoyable.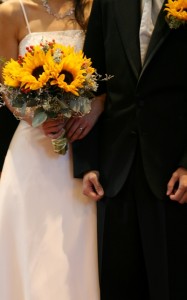 1. Get a Wedding General Manager
This is a MUST. Your General Manager's responsibility is to take care of everything that goes on the day of the wedding (work with wedding helpers, caterer, photographer, etc). This allows the couple getting married to be able to actually enjoy the day and not have to worry about the details. Choose a GM that can take charge, is organized, and someone that you trust.
2. Prepare your wedding invites and thank-you cards at the same time
Getting everyone's mailing address is time-consuming. If you are thinking ahead, the people you are sending wedding invitations are the same people you will be sending thank-you cards after the wedding. You can save yourself a bunch of work by preparing the invites and thank-you cards at the same time.
3. Give yourself 1-2 days to rest BEFORE going on your honeymoon
We were so tired after our wedding. I can't imagine trying to wake up early the next day, pack, and travel to our honeymoon destination. Olive and I took an extra day after the wedding to recover before heading out on our honeymoon. That way when the honeymoon started, we had the energy to enjoy it.
4. Take regular breaks from wedding planning
Wedding planning can be very consuming and stressful. There is so much to do. It's important to take breaks to regain your sanity. Go on a date once a week and during that time, DO NOT TALK ABOUT WEDDING STUFF. Just enjoy each other's company. Like you did before you got engaged.
5. Work through the conflict that comes up during wedding planning
There are so many decisions to be made during wedding planning that conflict is bound to happen. For me and Olive, it happened when we were putting together our wedding registry. She wanted quality items. I wanted cheap ones. When conflict comes up, make it a priority to take time to work through it. Don't let it build up.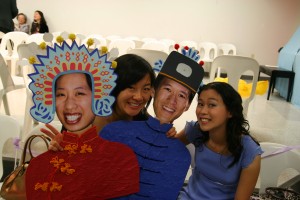 6. Have Photo Props
Have someone bring fun props for creative photos for the wedding day. My sister made life-size cutouts of me and Olive in traditional Chinese outfits for people to take photos with. Our guests had a blast with these props. Props are also great if you have a photo booth or photo station.
7. Brainstorm Bridal Party Photo Ideas before the Wedding Day
Think of bridal party (and engagement) photo ideas before the actual photoshoot. Having ideas beforehand makes the entire process go smoother. Get ideas from other people's wedding photos and write them down. Here are a few links to some of our favourite wedding photographers in Vancouver: Chicgeek Photography, Peter So Photography, Viv's Photography, and KAP Photography and in Toronto: Shelly Spithoff Photography.
8. Choose a Rocking Videographer
One thing we regret at our wedding is not being more picky about our videographer. Our videographer captured what happened during the wedding day, but missed capturing our story and our emotions. What we love about our friends at Wakefield Productions is that they take time to get to know the couple, and create a wedding video that really tells the unique story of the individuals getting married. They did the wedding of our friends Phil and Lily last summer, and we really enjoyed watching the video they created as it helped us get to know our friends better. (FYI, Wakefield Productions is giving a special $100 discount for readers of our blog.)
9. Plan a rest time DURING the wedding day
This is especially important if one of you is an introvert (like Olive is). There will be a lot of people to talk to and interact with on your wedding day. It's nice to plan a short break to catch your breath (and have a snack) in the midst of the hustle and bustle.
10. Do your own Video Journal
The wedding day goes by so quickly that after it's over you forget how exactly you were feeling. If you have a phone with a video camera, use it throughout the day to interview yourself and your spouse. You'll appreciate watching the videos after the day is done.
11. Get help writing your thank-you cards
I really wanted to send thank-you cards promptly, so we got help. The day after our wedding reception we threw a gift-opening-card-writing party for our out-of-town guests. This was great because it allowed us to spend more time with our friends and family from out-of-town, plus they helped us write over 200 thank-you cards. The wedding reception was on Monday and people received thank-you cards (along with a photo of them from the wedding) on Wednesday. And yes, they were shocked.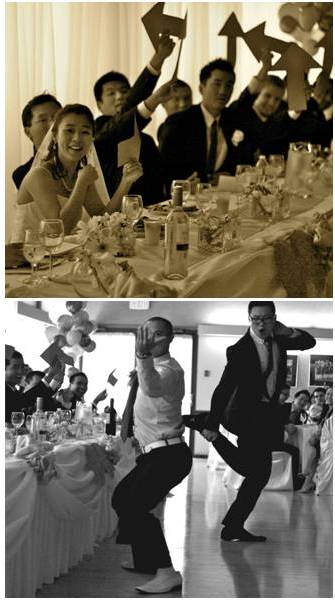 12. Hold a Dance-Off between Guests to see which table eats first
If you have a buffet at your wedding reception, you'll have to choose which tables eat first. Find a creative and fun way to do this. At my sister's wedding there was a dance-off. Each table sent a dancer for a dance-off. The wedding party voted for the winner. The winner's table got to eat next. It was really fun!
13. Let go and Enjoy
The details for the wedding day are not going to be perfect and that's okay.  Don't let the small stuff stress you out. Enjoy the day no matter what happens. For Olive, when things got too stressful or she felt like she had too many decisions to make, she would say this to herself, "At the end of the day, we will be married and God will still be God."  That helped her regain perspective and kept her sanity.
Weddings are a lot of work, but they're also in all likelihood the biggest, most fun party you'll ever throw.