About a year ago, Tim, his sister, her husband, and I hatched a plan to purchase a house together and share the space.  It seemed crazy and a bit far-fetched at the time – and it still does when we tell people we share a house.  But there were also so many reasons why we thought it was a good idea. So we launched into the great unknown armed with a hard-working realtor, some childlike prayers of faith and a "we'll see how it goes" kind of attitude.  This is the story of how we got our house.

[Note: This is a long post. I'm choosing to include most of the details because I want to keep a record of how this all unfolded. You're welcome to read along at your leisure.]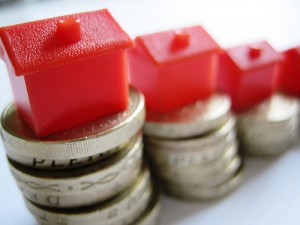 Earlier on in our marriage, Tim and I had a conversation about which relationships we wanted to focus on investing in. As we talked, it became clear to us that we wanted become better friends with our family; especially with his siblings, as they would be the people who would stick around us through thick and thin. We tossed around the idea of living closer to his sister and brother-in-law. What if we shared a house with them? We joked. Maybe, if they were up for living with us. We didn't think much more about it for a while.
Then in the middle of last year, circumstances arose that opened up the conversation again. Yes, they did want to explore the option of living with us. Financially, it made more sense to pool our resources for a downpayment, split a mortgage and get a bigger property than buying two apartments separately. Living so close together would also allow us to build deeper relationships with them. And hopefully as our families expanded in the future, we would be able to grow together as families. As a bonus (especially for us at this point), we would have in-house babysitting!
Timing-wise, it seemed to be a pretty good time in our lives to move. When we initially began our search, I was in my second trimester of pregnancy. We agreed to test it out for one month and see how it went. We needed to a) find a house all four of us liked and wanted to live in and b) sell our current apartment. At the end of that month, neither of those things had happened. We'd found one house we liked, but it would have needed quite a bit of renovation work done before it would be suited to our needs. And in the end, it sold before we could make a decision. But we had a better sense of what kinds of places were out there and whether there was interest in our apartment. We decided to table the idea until after Alena was born and we had more time and energy to resume the search.
In March 2012, we began the search in earnest.  Finding a place that suited both our families would not be easy. To begin with, we were looking for a two-storey house with a separate suite on each floor. The suites were to have their own entrances, but also be connected to each other from within the house. Both suites needed to be bright and feel like home (no awkwardly laid out or dingy basements.) Both suites had to have a decent kitchen and living area.  Upstairs needed 3 bedrooms and 2 bathrooms. Downstairs, 2 bedrooms and 1 bathroom. Additionally, we wanted to be walking distance to groceries and central enough to other shopping. And we had to be close to transit and schools. A fenced in backyard would be bonus. To top it off, our budget was pretty modest for the type of house we were looking for. When we looked at our list of specifications, we knew we were trying to find a needle in a haystack. But, we figured, if God was the one who initiated this plan, He would somehow lead us to our "dream home."
Adding to the impossibility of it all, selling our apartment also looked like it was going to be very difficult. Everyone was talking about a potential burst in the Vancouver housing market bubble, resulting in slower sales. And at the time of our listing, there were 4 other units in our building up for sale – 2 of which were on the same floor as us. Due to our personal finances (we had bought at the height of the market, just before the crash in 2008), we had to list ours for $15K higher than our neighbours' units. And if that wasn't enough, our building was also gearing up for a big project to replace all the water pipes, which would mean noise and dust for a few months at least. Who was going to buy a place like ours and at this point in time?
The odds were against us. If this move was going to happen, we would need a miracle.
The night we first looked at the house that would eventually become ours, the circumstances were not ideal. Tim's sister and her husband had just arrived back from a trip to Hong Kong. They were jet-lagged, and we had a 4 month old baby with us. The house was last on the list of four places to see. We went in simply because it was in the area of another house we had had our eye on. But somehow, we came away from it thinking, "Hm, this place has potential."
The house we had thought we liked ended up having an offer on it so it was pretty clear that door was closed. This house, however, was over-priced for its market value so there hadn't been much interest in it. It met all of our requirements, and the upper floor suite had been recently renovated. The only drawback to the space was that the lower floor suite had had a smoker living in it. We were left with these questions: Would we be willing to renovate the downstairs? And would the owners sell for a lot less than their asking price? Most importantly, did we want to live in Port Coquitlam, which was quite far from most of where our relatives and friends live and definitely far from my sister-in-law's workplace? We weighed the options and decided that after looking at 30+ houses, this house was the closest we had come to our "perfect" house.
Around this time, we received an offer for our apartment. The terms of the contract seemed reasonable to us so after a bit of negotiation, we accepted the offer. Having this accepted offer on our apartment and the bank's clearance to purchase the house without the condition of our apartment's sale, we felt like we had a go-ahead to put in an offer on the house. After looking at it a second time, we bit the bullet and submitted an offer. The sellers came back: rejected. Our offer was too low. Over the course of a week, we went back and forth with the sellers until we finally arrived at a price – $40K below their asking. It was within our budget (even with renovation costs factored in).
It would be two weeks before the subjects were removed on the house (that's real estate speak for when the deal is confirmed and there's no backing out). It would be two weeks plus a few days before the subjects were removed on our apartment. The timing was close enough, it should be ok, we thought.
Our contract to purchase the house was finalized. But when the day came for the buyers to finalize their purchase of our apartment, they balked. The sale fell through. Now we were stuck with a house that we were getting possession of at the end of May, and an apartment that was still unsold and that we could not rent out because of building bylaws. Maybe I could be thankful for two roofs over our heads? I thought. But the reality was, it looked like we were going to have to pay two mortgages. Unless God intervened and sold our apartment soon, that was.
We prayed. Hard. And we asked a lot of people to pray. God wouldn't bring us so far just to let us down, would He?
In the process of waiting for our apartment to sell, our prayers shifted from, "Here's what we want from the sale," to, "Whatever you think is best, God." We realized that God would provide for us either through the money from the sale, or by some other means. In the end, He provided a portion of it through another means so we could lower our asking price to be closer to that our of neighbours' units.
It was a stressful time. We were unsure of when we would move. Yet we had to keep our apartment in showing condition. The hardest part was having to put away all of Allie's baby gear and evacuate our place every time someone wanted to come see our apartment. All for the 15 minutes. And then we had to take all of her gear out again.
The day came for us to get the keys to our house. When we arrived, the seller's real estate agent did a walk through with us and we were met with a big surprise. The former owners decided to leave us their lawnmower, ladder, gardening tools, several cans of paint and a whole bunch of lightbulbs! They also left us a very kind note. We were moved by their generosity. And it felt good to know this was the home awaiting us. Just, when would we get to live there?
About a week after we got possession of our house, the re-piping project began at our apartment. Construction began on a Monday and by Tuesday morning, I told Tim I couldn't live through much longer of the banging, drilling, and mess, not to mention water shut-downs. The noise was awful and Allie couldn't nap. I wanted out. But how could we move when our apartment was yet unsold and we were considering the possibility of renting out the house in the meantime? We had to trust God and do what was best for our well-being and sanity.
By Tuesday night, we decided we would move our essentials into the house that Saturday. We would have four days to pack our stuff and scrounge up some help from friends. Thankfully, Tim's father was in town at the time and could help us with Allie while we moved. We figured we'd move everything we needed to live off of first, and then pending on the apartment situation, we'd either move the rest of our things to the house or move back into the apartment. A second offer had come in on our apartment but we had to make the tough decision of rejecting it because it was too low.
On Wednesday evening, we had an apartment showing. Usually, with the showings, we would get the place ready and hang out in the lobby while our realtor showed the place to prospective buyers. He'd text us when they were finished and we'd come back upstairs when the coast was clear. That day, however, he messaged us when they were done viewing the place but the potential buyers decided to keep talking out in the hallway. So when Allie and I got off the elevator, they were still there. Now I don't believe in coincidences, so when I met the couple and saw how they were drawn to Allie, I thought to myself, these people might be the future owners of our place.
The next few days were a blur of packing and Saturday arrived all too soon. We loaded up a U-haul and made our way to the new house. It felt good to escape the construction. But it was hard to live in the uncertainty of whether we'd get to stay and really settle into the house. We slept well that night, despite being on a mattress in the middle of the floor. And the next morning, Allie looked around and smiled at her new surroundings. I knew then that we had made the right decision.
Two days after we moved, we received a third offer on our apartment. It was from the couple I had unintentionally met. We were able to negotiate a price with them and accept their offer. The rest of our stuff was moved into our house and we could finally truly settle and make our house our home. In the middle of July, less than a year since we first decided to move, we handed over our keys and said goodbye to the very first home of our marriage.
The timing of everything worked out better than we anticipated. My parents came to visit shortly after we had moved. They conveniently stayed in our extra room and my dad put his handyman skills to work and helped us fix a ton of stuff. And they were also able to babysit Allie while I went to help my sister-in-law pack up their rental place so they could move their stuff a the end of June.
Looking back, we see how much of a miracle it all really was. Today, as I write this, our ex-neighbours' units are still up for sale (over a year since they first went on the market). And the price we got for our apartment was $1000 higher than their listing price. The chances of everything working out for us were so extremely slim. And yet it all happened. Some might call it luck. But to us, it's the grace of a living God.
photo credit:
Images_of_Money
via
photo pin
cc