When people see my simple wedding band, some of them wonder where my diamond solitaire engagement ring is.  Well, I never got one.  Instead, I got a goat.  Strange, you say?  Well, let me tell you the story.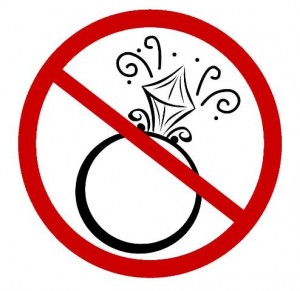 At some point in our dating journey, I arrived at the conclusion that I wanted to marry Tim.  As we talked about possible engagement, I started researching ring options.  I wanted to make it easier for Tim to choose a ring for me so I sent him pictures of designs I liked.  (I know, what a considerate girlfriend I was!)  To be honest, part of me did this because I didn't quite trust his judgement when it came to choosing things that I would like to wear.  (This was based on previous experience… but that's another story.)
But the more I looked, the more I felt a growing uneasiness about such a big purchase.  It felt too extravagant.  Now, I know the rationale behind proposing with an expensive diamond is that it symbolizes how valuable a woman is to a man; to say, "This is how much I love you."  But I just couldn't buy into that.  Whether a man would stay with me through all the ups and downs of life didn't seem correlated to whether he was willing to fork over two to three months of his salary to find me the perfect ring.  And just because he could pick out a rock with perfect cut, clarity, colour and carat didn't really communicate to me his willingness to work with me to build a strong and vibrant marriage relationship.
Don't get me wrong, I'm not against receiving nice things. (Are you reading this, honey?)  But I just didn't believe dropping $10,000 on a piece of jewellery was a wise use of money.  After all, whatever money he spent on my ring would be our money after the wedding.  And at that point, having that money for a downpayment (which translated to a roof over my head) seemed much more appealing than wandering the streets with some pretty bling on my finger.
It's probably my pragmatic personality, but knowing me, even if he had bought me an expensive diamond solitaire, I would most likely be too afraid of losing it.  Or I'd get annoyed with it catching on things.  So it would ultimately end up in a safety deposit box somewhere.  And what's the point of that?
Still, I wanted something of significance to mark his commitment to me.  But what?  A ring carried tradition and meaning, which I liked.  But I didn't think it had to be an expensive one.  The engagement ring would serve as a visual symbol of Tim's promise to marry me; it would be a place-holder until we exchanged vows at the altar and I would replace it with my wedding band.
As I thought about our relationship and what we desired for our lives to be about, I wanted part of our engagement to reflect the fact that our union existed for more than just the two of us.  So I told Tim not to get me a diamond ring (imagine his relief!) and to bless a family in the developing world with a goat from the World Vision catalogue instead.
In the end, he proposed with a deeply meaningful scrapbook with accompanying gifts, a simple cubic zirconium ring, and some fruit and olive trees for some needy families.  Oh, and yes, he also got a goat.  Which made me really, really happy.