While we were engaged, one of our mentors advised us to keep on dating after we got married. Having regular fun and dedicated times together would help the marriage stay strong. We took their advice and have gone on a date every week for the last 4 years.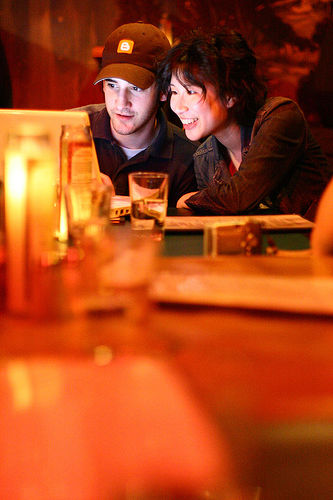 Our date nights are usually on Friday evening, but depending on what we want to do, sometimes it's during the day on a weekend. It gives us something to look forward to during the week. When we were dating and early in our marriage, we would come up with lots of fun and creative things to do together. But after a while, we started running out of ideas. Whenever Friday came around we would look at each other and ask, "So… what should we do on date night?" When neither of us would have an answer, we would go to our typical date night of ordering take-out and watching a movie.
We quickly got tired of our routine date nights and wondered why our dates had become so boring and predictable. After some thought we realized the reason was that we didn't put any time or effort into planning our dates. So on our next Blue Day we brainstormed ideas for what we wanted to do on our weekly dates. (We invented Blue Days to reflect and plan the important aspect of our life, which we write more about in chapter 2 of our book, Fight With Me: How We Learned to be Married. You can download it for free).
Each week, when date night comes up, we refer to the list and choose something we want to do. It helps us keep our date nights fresh and fun.
Here's a list of 10 fun date night Ideas we have tried:
1. Try Something New Together
This could be a new restaurant or a new activity – something that neither of us has tried before. We've taken time to make a list of restaurants we wanted to try. The list is compiled from local restaurant awards and recommendations from Facebook friends. In terms of activities, some things we've done are taking a pottery lesson, going snowshoeing, and learning to curl.
2. Attend a Charity Event
Going to an event of a charity we believe in allows us to learn more about the world around us. It reminds us not to focus solely on our own happiness, but to spend some time serving others. Plus, many charity events are also fun too. We've attended a fundraiser with dance lessons. We've also gone to an annual charity dinner with live music and testimonies.
3. Rewatch a Favourite Movie
One of things we love doing is watching an old movie that has special meaning for us. As we watch it we reminisce about the memories surrounding the movie. We've rewatched "The Wedding Singer" because I sang one of the songs in the movie to Olive on our wedding day. We've rewatched "StarDust" because it was the movie we watched when we made our own makeshift outdoor summer theatre on our balcony one night. It's fun to remember favourite moments in our relationship.
4. Teach your Spouse a new Sport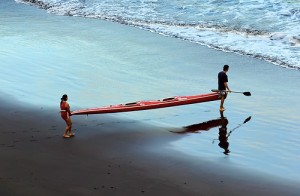 This is fun because one of us gets to be the "teacher" and the other the "student". I've taught Olive how to kayak and how to snowboard (on Valentine's Day). She enjoyed the former, but didn't like the latter so much.
5. Have a Baking Night
Once we spent the evening baking a big batch of chocolate-chip oatmeal cookies. They were delicious! We had cookies to eat for weeks after that date night.
6. Introduce your Spouse to a Hobby
This is fun because one of us gets to share an important part of our life with the other. Olive loves theatre, so we've gone to see a few shows. She gets to be the expert and point out things I would not notice. I've brought Olive to watch hockey games, and taught her the rules of the game and names of the players.
7. Help Someone Out
Once in a while we will spend our date helping someone out. Once we went to my grandma's house to help her rake leaves and pin curtains. Another time we helped my sister and brother-in-law paint the closet doors of their new home.
8. Go out for Dessert
This is something special to do, because we never go out for dessert. The last time we did this we treated ourselves to a banana split and New York cheesecake. Yum yum.
9. Take Your Spouse to a Favourite Spot
Something we really enjoy is taking each other to our favourite spots, or a place that has meaning for us. I've taken Olive to climb my favourite mountain, The Chief, which has a beautiful view of Squamish (just north of Vancouver). Olive has taken me to the neighbourhood she grew up in and showed me the walks, the park, and her old school. It's nice to see a glimpse of your spouse's life and listen to them share about their experiences.
10. Show Support to a Friend or Family Member
We've watched a friend's play, our brother-in-law's hockey game, and another friend's musical. When we can we like to show support to the people close to us and affirm their unique talents, skills, and hard work.
Date nights are especially important if the week has been busy and we have not seen much of each other. It's time to catch up on each other's lives. We have learned to put away our cell phones during this time so that other things don't distract us. The date is for us to enjoy each other's company and hang out with the person who is our best friend.
What are your favourite date night ideas? Share in the comments.